PASSION FOR BEING A DENTIST:
Dr. Philip J. Cimo grew up with a medical-oriented family. His father has dedicated his life to hematology and oncology. This inspired him to go on and pursue a career in health care, specifically dentistry. Dr. Cimo's main priority is putting the needs of his patients first by providing them with the most individualized, yet affordable treatment options and services. Dr. Cimo believes in the pain free, anxiety free approach to dentistry as he insists that oral care should not have to be a stressful and painful experience. In addition to his cost effective dentistry, Dr. Cimo strongly believes in putting the patient first. He provides the very best in industry products including the most up-to-date, modern equipment and the latest training methods. Dr. Cimo feels inspired to create a non-corporate environment for his patients where they never feel like just a number. His vast patient base consists of people from all walks of life, including patients from different socioeconomic backgrounds/ethnic groups, the elderly, medically compromised/special needs patients, other dentists/physicians, and highly anxious patients. With Dr. Cimo, oral health is always affordable, easily accessible, and extraordinarily individualized.
EDUCATION, PROFESSIONAL MEMBERSHIPS, & EMPLOYMENT:
Dr. Philip Cimo attended the University of Colorado, in Boulder, for his undergraduate degree in Molecular Cellular and Developmental Biology and received his dental degree from the University of Texas' School of Dentistry. He went on to complete his postgraduate training from the National Naval Medical Center in Bethesda, Maryland. Dr. Cimo had the honor and privilege of serving in the U.S. Navy, specifically as the dental officer aboard USS TORTUGA LSD 46 from the year 2000 to 2003. In the following years, from 2003 to 2007, Dr. Cimo held the position of Clinical Assistant Professor at the University of Texas' School of Dentistry. He furthered his commitment to dentistry even more by receiving Fellowship Status from the Academy of General Dentistry. His certifications include Basic Life Support, Advanced Cardiac Life Support, and Conscious Sedation Anesthesia. Since 2004, Dr. Cimo has practiced at his well-established private practice, Brittmoore Dental in Houston, Texas. In addition, he is currently on staff at the Memorial Hermann Memorial City Medical Center located in Houston, Texas.
PROFESSIONAL INTERESTS:
Dr. Philip Cimo performs dental implant restorations and dental implant surgery, including more complex full mouth reconstruction and rehabilitation treatments. Dr. Cimo also focuses on vital prevention treatments, as he is a firm believer that people are starting to outlive their teeth. He is especially fascinated by the pathophysiology, of BRONJ, also known as bisphosphonate-related osteonecrosis of the jaw. With pain free, anxiety free dentistry as his main priority, Dr. Cimo is a major advocate of sedation, hence he uses painless sedation methods during his emergency care treatments for patients.
PERSONAL LIFE:
Dr. Philip Cimo was born and raised in the Memorial Area of Houston, Texas. Where he continues to reside with his wife, Mary Kay Cimo, their two daughters, Sofia and Cecilia Cimo, and their dog, Bruno. In his free time, Dr. Cimo enjoys spending time with his family and participating in adventurous outdoor activities including fly fishing, skiing, and is an avid runner.
---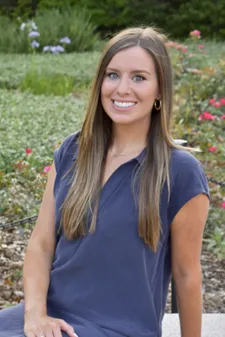 PASSION FOR BEING A DENTIST:
Dr. Amber Stephens grew up in Dallas, TX and has dreamt of being a dentist for as long as she can remember. As a child, she looked up to her pediatric dentist and always enjoyed her visits for routine teeth cleanings. This inspired her to pursue a career in dentistry.
Dr. Stephens believes in thoroughly educating her patients in the variety of treatment options so that they are the ultimate decision-maker when it comes to their oral health. She realizes that each patient has unique personal goals and financial needs and believes that treatment should be individualized. She strives to provide exceptional care in a calm and comfortable environment, ensuring patients feel welcome and relaxed upon entering the office. In addition, Dr. Stephens prides herself in staying up to date with the newest advances in dental technology so that she is able to provide the best care for her patients.
EDUCATION, PROFESSIONAL MEMBERSHIPS, & EMPLOYMENT:
Dr. Amber Stephens attended the University of Mississippi for her undergraduate degree in Dietetics and Nutrition and then went on to receive her dental degree from the University of Texas' School of Dentistry in Houston. Her certifications include Basic Life Support, Conscious Sedation Anesthesia, and Laser Dentistry. She is a proud member of the American Dental Association, Texas Dental Association, Greater Houston Dental Society, Academy of Laser Dentistry and American Academy of Cosmetic Dentistry.
PROFESSIONAL INTERESTS:
Dr. Amber Stephens offers her patients preventative care (cleanings, sealants), restorative treatments (crowns, bridges) and cosmetic procedures (whitening, veneers, tooth-colored fillings). She genuinely enjoys all aspects of dentistry but is particularly interested in cosmetic procedures and orthodontics. She is very detail-oriented and has found that these procedures allow her creativity to shine. Whether the concern is staining, discoloration, broken teeth, misalignment, or gaps, Dr. Stephens is committed to improving the appearance of each patient's smile.
PERSONAL LIFE:
Dr. Amber Stephens was born and raised in Dallas, Texas and moved to Houston in July 2018 where she met her fiancé, Jordan. In her free time, she enjoys spending time with her family, cooking, watching college football, traveling, and being outdoors. Dr. Stephens is compassionate, outgoing, and always smiling.